Welcome to Frank's homebuilt MP3 player pages. If you're looking for a build-it-yourself, standalone, USB harddrive based MP3 player, this may be of interest to you. Originally conceived in 2002 as a replacement for a CD player, this unit sits on the shelf next to your stereo and connects via standard RCA line-out audio connectors. Features of the player include:
Large, back-lit LCD display
IR remote-control receiver port
USB 2.0 connection for fast song transfers
Functions as a USB harddisk
24-bit stereo audio out
Support for fixed & variable bitrate MP3 files to 320 kbps
Supports harddisks up to 137 GB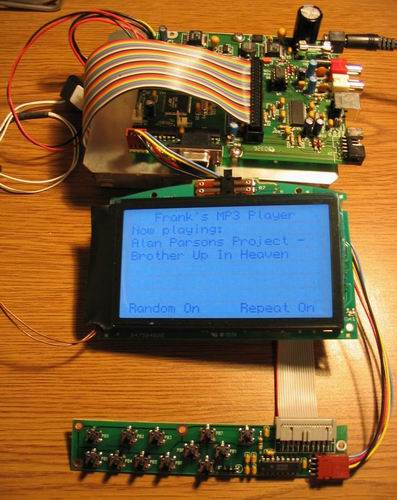 (click image for larger photo)
For an overview of the project, have a read of the (now quite dated) following presentation (in PDF format):

 (283k)
All of the items listed in the presentation "Next Steps" page are now supported, with the exception of playlists. Subdirectories, output level, IR remote control, etc are all supported.
This is an open-source project. Full hardware schematics and software source code are freely available on this site. As long as it's for non-commercial use in whole or in part, you may use and modify this design to your heart's content. Click on the menu links for more information.
This project looks quite quaint now. But in 2002 / 2003 it was quite the thing, with a relatively large display, a big hard disk, etc. I had a handful of spare PCBs and chips in 2003 so I put together some kits and for a while they sold like hotcakes. It was a nice CD player replacement at the time. Mine still gets used.
Adios my messy CDs…. Off to the basement with you!